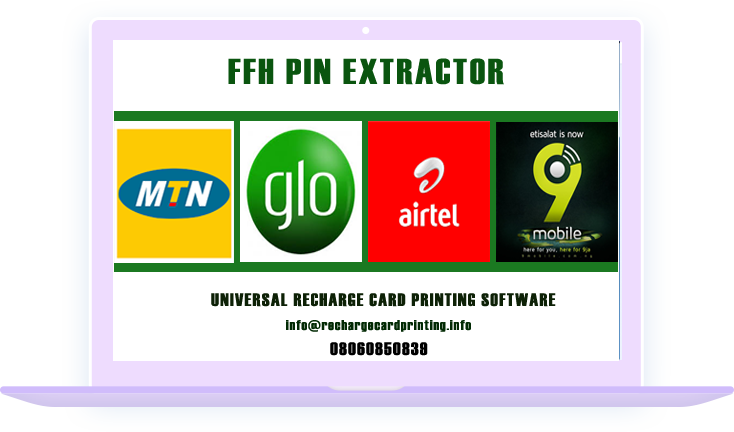 Note All Payment For Services Must Go Only To Our Corporate Bank Account. Decline To Pay To Any Other Individual's Account.
Partner with Us to Start Printing Recharge Cards of All GSM Networks Today and Start Making Money Every day of your Life
Introducing a Complete Package Business that can create massive wealth for you at any time and day.



Download & Install This Software Now If Your FFH PIN EXTRACTOR Could Not Display Serial Number For Activation.
We sell Laptops & Printers at our offices.
Watch Video on How To Print Recharge Cards
How to print recharge card of all networks using only phone or computer with no use of any software.
Watch Video on How To Print Recharge Cards
Watch A video on YouTube Showing How to Print Recharge Cards Using This Software FFH DYNAMIC CONCEPTS. It is the easiest in Nigeria
Things You Need To Start Recharge Card Printing Business :
Our Universal Software has everything you need to kick start this business of printing Recharge cards and Secret to making huge profit at all times. Take a look below at some of the features of the Software.
Contains All GSM Networks

This Software Prints Recharge Card E-Pins of all Top GSM Networks like: MTN, GLO, Airtel, 9mobile, Visaphone and Others

It's The Most Secured

The Software Was Made With Maximum Security To Give You Peace of Mind.Hence You will Have To Sign In With A Username to Access It.

It's Universal

The Software Accepts E-Pins From All Dealers Nation wide.But We Can Assure You that our E-Pin price is the cheapest in Nigeria.
Very Simple To Use

Using The Software is As Easy as Recharging a Voucher.It's as easy as reading your screen to see each action to be taken at a time

Multiple Unique Features

The Software Has Great Friendly Interface. This Makes It Very Easy To Understand How To Use The Software To Print All GSM Vouchers

Maximum Support At All Times

You Are Entitled To Support At Any Time. Our Customer Care Team Are Available At Our Multiple Channels To Be Of Help To You.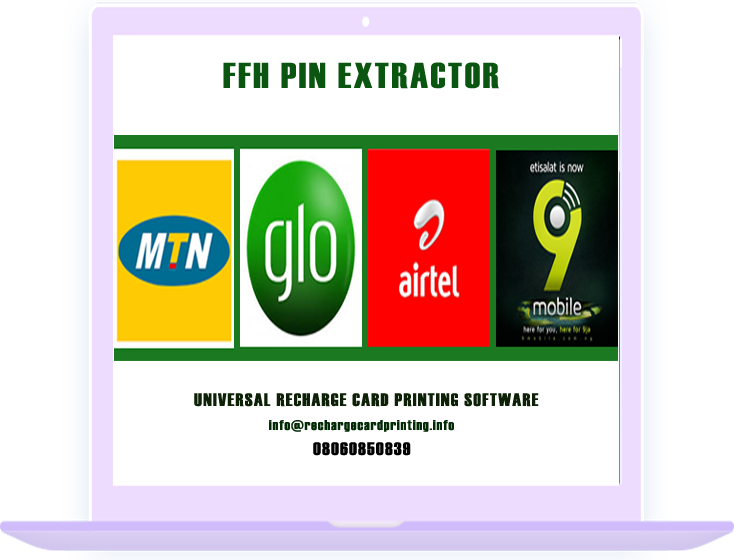 "I wanted a business that can help multiply my money with ease and this business gave me that opportunity to make between 600%-1500% Gains in a year with out recording any loss.This is awesome!!!"

Sir Gozie Emmanuel. Abuja, Nigeria
Bonuses you get with the Software
Once You Have Purchased A License Key To Activate This Software, You Also Get Other Bonuses along With The Software.This Includes The Following:
*You Get Free Access To Our Recharge card printing Portal (Online Platform For Printing All Network Recharge cards) *We Will Give You A Certificate That Qualifies You To Print Your Own Recharge Card of All Networks Legally Any Where in Nigeria and Be Your Own Boss Making Good Money As a Producer. *Up To 50% Discount After Purchasing a License For The Software,You are Qualified To Get Up To 20% Discount on any other license you Purchase For Others. *You Are Also Qualified To Buy e-Pins From Us At The Cheapest Price in Nigeria! Also Can RE-INSTALL THE SOFTWARE for free if loose it. A Minimum Of 10-pins For All Denominations, To Allow You Buy Across All Networks.Meaning You Can Start This Business With N5,000/above, Using Any Phone and Printer *You Also Get Several Training Video, PDF Tutorials, PGP Software For Protecting Your Pin and Also Sample e-Pins for Printing Practice.&nbsp.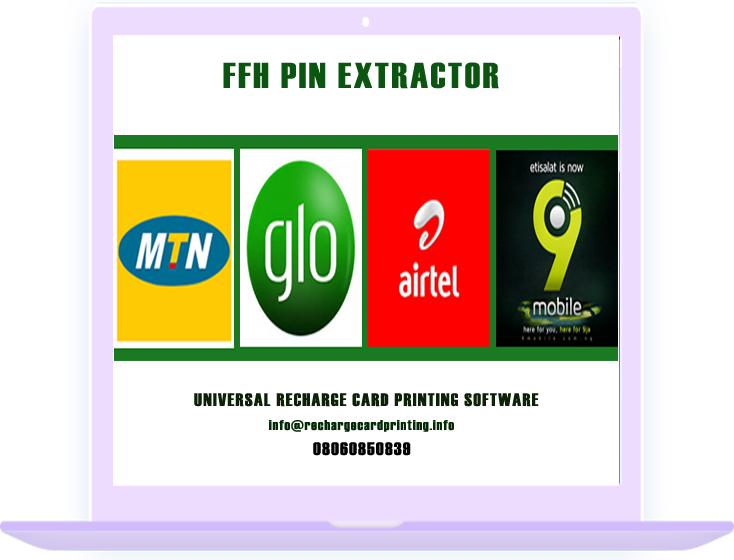 Our Pricing
OUR FFH PIN EXTRACTOR IS VERY AFFORDABLE AND COMPETITIVE.
Note: You Need To Activate The Software By Getting A license Key To Be Able To Use It. One License To a Computer.
WATCH OUR VIDEOS AND SEE HOW MUCH PROFIT YOU CAN MAKE.

"This FFH DYNAMIC CONCEPTS has the Complete Package (Software & E-Pins) to enable anyone starts Printing Recharge Card of All GSM Network at the Cheapest Price in Nigeria to allow you Make Huge Profit"

Pastor. Benson Oraukwu of Big Ben Communications Awka, Anambra State.
How To Start Printing Recharge Cards in Nigeria
Kindly Follow The Steps Below
1. Install FFH PIN EXTRACTOR SOFTWARE on a Computer or Request To Use Phone or Computer To Access Our Recharge card Printing Portal 2. Buy ePins from our company (FFH DYNAMIC CONCEPTS) or any reliable recharge card e-pin dealer but We Sell Cheapest Price in Nigeria 3. Upload the ePins to the software 4. Connect printer to PC or Phone or Your Device and load it with papers 5. Use the software to print the ePins on the papers 6. Sell to wholesellers and make huge money doing turn over with your capital. You Can Do This Business From Home With No Shop Rent Involve & Can Setup Multiple Branches Nationwide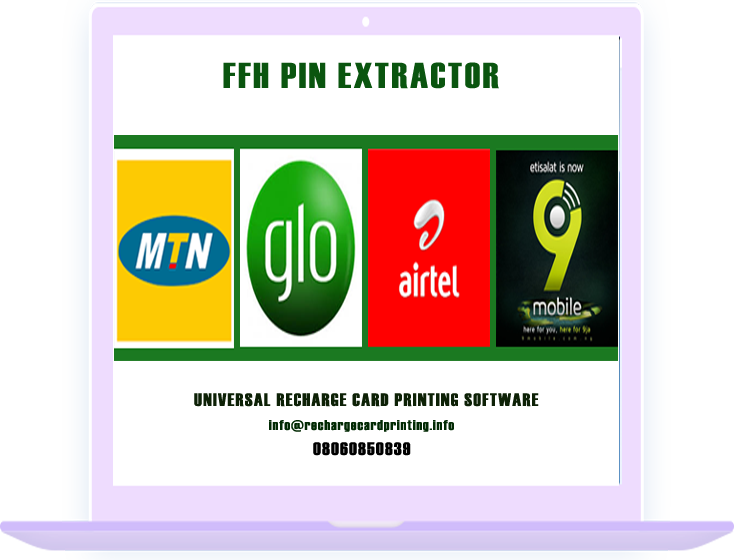 "Great Software!Easy To Use.I have already started printing my own Recharge Card at best of price with my company name on them and selling in wholesale makes it very fast to make quick profit.Very Nice"

Mrs. Ogechi Tonia Aigbogie. From Ojodu Berger, Lagos State
Downloads Only In The Last One Month
Top Rating By Our Clients On Different Review Sites
Testimonials Recieved in Less Than A Month
About Us
FFH DYNAMIC CONCEPT is a Registered Company that is in Partnership with all Telecommunication Company in Nigeria to Carry Out Telecom Business and Training on ICT Opportunities and Online Businesses That Can Create Massive Wealth For Everyone.
CERTIFIED BY Corporate Affair Commission (CAC) BN: 2644995 We Will Give You A Certificate That Qualifies You To Print Your Own Recharge Card of All Networks. Watch The Two Videos Inside The "Video Training" Session To Understand How Much Profit You Can Make Doing This Business. Very Vital You Watch It To See How Profitable This Business Is To Everyone. We Have Physical Offices in Abuja, Lagos and PortHarcourt and Most Popular Cities in Nigeria, You Too Can Partner With Us To Become Our Registered Business Partner. Note All Payment For Services Must Go Only To Our Corporate Bank Account. Decline To Pay To Any Other Individual's Account. For More Details or want answers to your questions instantly, please send message to any of our Whatsapp numbers below. WhatsApp Customer Care Line: 07042711116 and 08141798256 For Payment For Our Services Use: UNION BANK, Account Name: FFH DYNAMIC CONCEPTS Account Number: 0100336871, If Your FFH PIN EXTRACTOR Couldn't Display Serial Number To Activate it then Contact Us. Whatsapp Me To Get Another Software If Have Trouble Downloading The Free Software Here. You Can Now Start Using Your Phone or any internet enabled device To Start Printing Recharge Card Of All Networks As We Have Launched Our Recharge card Printing Portal That Supports Printing With All Mobile Phones & Computers. Visit: www.printrechargecardonline.com For More Details or want answers to your questions instantly, please send message to any of our Whatsapp numbers below. WhatsApp Customer Care Line: 07042711116 and 08141798256
Get In Touch
Address : Plot 29 Cadastral Zone, Block C3, Shop 19 Central Market, Byhazin Road Kubwa by NYSC Road Abuja, Nigeria

Phone Number : +2348060850839
Our Email : info@rechargecardprinting.info
WhatsApp : +2348141798256